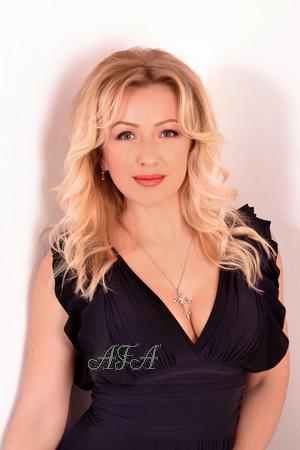 ID: 175783
Svetlana
Ukraine
City:
Kharkov
Age:
42
Zodiac:
Sagittarius
,
Rabbit
Weight:
125lb, 57kg
Height:
5'4", 163cm
Eye Color:
Green
Hair Color:
Blonde
Marital Status:
Divorced
Children:
1 - girl, 18
Religion:
Christian (Orthodox)
Smoker:
No
Drinker:
No
Education:
Higher
Company:
Private
Job Title:
Jurisconsult
Sports:
Yoga, Fitness, Swimming, Ice Skating, Fishing
Hobbies:
Psychology, philosophy, traveling, auto racing, sports
English:
fair
Languages:
Russian (native),Ukrainian (good),German (fair)
Self Description: I'm kind, caring, understanding, sociable, self-confident, helpful, happy, romantic, non-violent, non-conflicting, calm and cheerful woman. I have good human values and a strong character. I have always tried to be well-rounded in my life. I determined to improve my social skills and do my best in a lot of activities since childhood. I think I did a pretty good job of transforming my personality. As a result, I believe people have the power within them to grow into what they want to be. I'm affectionate, funny; I have sense of humor, feminine and sensual. A day not smiled is a day not lived! So I am an optimistic person. I like life, new challenges and adventures. Also I like calm moments. You can be sure, that Iím not boring. I want a marriage relationship, for once, I do not like playing with feelings. I am honest, faithful, loving and caring with the man I love. To be close to a kind man would make my life complete.
Comments: My first objective is to make friends with intelligent accomplished men who welcome intelligent conversation. Making friends with men in foreign countries is especially attractive because they can provide a different world perspective which is always interesting. I hope to find love, honesty, loyalty and understanding and have a lot to give, respect, protect, appreciate and take care of my future husband, I do not want adventure, I hope a long-term relationship, and you? I want to be your partner and best friend, not only that, I would love to marry you and I am tired of being alone, so I would like to create a family and get it over very soon! I do not seek a perfect man, he just must be determined to love and receive love. I want a companion, friend, loving husband and lover, to share everything without reservation, are you ready? I expect a reply!