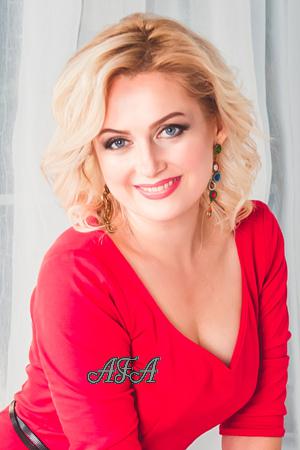 ID: 175731
Alla
Ukraine
City:
Kiev
Age:
44
Zodiac:
Cancer
,
Tiger
Weight:
125lb, 57kg
Height:
5'6", 168cm
Eye Color:
Blue
Hair Color:
Blonde
Marital Status:
Divorced
Children:
1 - boy, 15
Religion:
Christian (Orthodox)
Smoker:
No
Drinker:
No
Education:
University
Company:
Private
Job Title:
Interior Designer
Sports:
Gymnastics,
Yoga
,
Swimming
Hobbies:
Traveling, embroidery, dancing
English:
fair
Languages:
Italian (fair),German (fair),Russian (native),Turkish (fair)
Self Description: I am an introvert, easy going, calm and soft spoken woman. I am stable financially and have a good job. I am a woman who works hard, live a comfortable life and enjoy my life very much. I have responsibilities, I need to take care of my close people, Iím very goal-oriented and family loving. Iím a person of dialogue and like to exchange ideas. I am a pretty funny woman who like good things in life. I love to go out and have a great meal at a nice restaurant. I enjoy theaters, music halls, museums, beaches, etc. I have been alone for quite a long time and I miss the warm and passion of a real man. I do not like playing with the feelings or emotions of anyone. I will always present myself as I truly am in real life. I do not puff myself up to seem the most beautiful, a world traveler, charmer or smooth talker. I am a plain spoken, honest, sincere, open-minded, caring woman who enjoys life the best I can.
Comments: Trust, dedication, love, understanding, joy, etc are necessary for the happy marriage life. This is my way of thinking. I will try my level best to fulfill your life with full of joy and love if matter has been done, I am on this site for good match. I must say that I like simplicity, willingness, loyalty in men. I wish my man to be a friend, companion, lover, in good and bad times. I miss just a warm, easy-going, empathetic, thinking and happy man at my side who is hungry for life, to meet new cultures, who want to see a bit of the world outside us. A man to be close and to take care of and spoil a bit - a man to continue life's journey with all that implies. And to create a new family! I am looking for a loving relationship that would be very sincere in nature as that is what was missing in my life, couldn't do that anymore. I am looking for a long-term partner, and would love to get acquainted with you and get to know you better and closer. Iím willing to wait ! for someone who are willing to hold while the rest have gone.